Don't
settle
for
less.

Yes -- there are other cedar shingle panels on the market. But when you look at them side by side, you can quickly see that Shakertown Craftsman Panels are in an entirely different league.
there's just no comparison.

shakertown

imitation

Full Coverage

100.8 sq. ft. per panel square

Only 99.75 sq ft. per panel square

Quality Look

Nothing but cedar visible in the keyway

Black fiberglass mat and glue bead visible in keyway

Traditional Cut

Random, traditional shingle widths - - 3" to 14"

Lumber widths of only 4", 6" and 8"

Thicker Shingle

Average of .38" thickness

Average of only .29" butt

Quality Construction

Fully bonded to "exterior grade" backer to PS1-07 Standard

Stapled to "exposure 1" backer

Easiest Application

No self-aligning edge feature

Best Technology

Rain Screen Technology for 98% drainage efficiency

Inferior backing system creates a potential moisture trap



WHY THE COMPETITION DOESN'T CUT IT.
Let's say you have to cut a panel to fit a 12/12 pitch. Or you have to shave some off the top or bottom of a panel. If the shingles aren't fully bonded to the backing, pieces will fall off. That requires additional time and materials to fix.
Plus, with 150 staples per panel and an abrasive fiberglass interlayer, the imitation panels can be a saw blade's worst nightmare.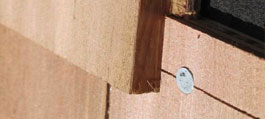 Shakertown's self aligning edges and pre-scored nail line make for faster work