Craftsman Cedar
Shingle Panel
The Shakertown® Craftsman 1-Course Cedar Shingle Panel is the newest development from the company that brought you the original cedar shingle panel. Manufactured using only the finest Western Red Cedar vertical-grain heartwood, the new Shakertown Craftsman Panel features a full plywood back, a thick 3/8" shingle butt and overlocking end-joints for a seamless appearance.
Shakertown Craftsman Panels go up 6 times faster than individual shingles and can be installed with a pneumatic nailer. And the blind/concealed nailing creates a true, traditional shingle appearance.
The panels are 8' long and available in an exposure size of 7", 4 1/2" and 14" (14" exposure product is face nailed). Shakertown Craftsman Panels are constructed with a classic keyway joint or tight contemporary joint between shingles. The panels are available with an even-butt or staggered-butt line to match any home style.
7" panel available with Rain Screen.
Material Savings
Most importantly, Shakertown Craftsman's 1-Course styling creates far less waste than a 3-course panel. Some waste can be expected around doors, windows, gables and tops of walls. With 3-course panels, 20% of your material will go to waste, while Shakertown Craftsman 1-Course Panels have only 5% waste. The cost savings in purchasing the material and waste disposal makes Shakertown Craftsman Panels the smart choice.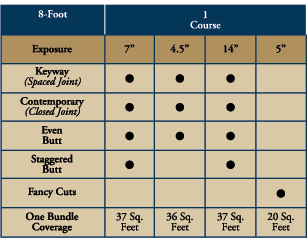 Complete Shakertown siding panel line.
Shakertown Craftsman panels are premium grade, 100% clear vertical grain Western Red Cedar with the following spacing styles and buttline options:

Keyway style Vertical spacing between shingles lends visual interest and traditional appeal.

Contemporary style Set tight and touching to add a smooth, uniform finish to modern designs.

Even butt Creates a consistent, symmetrical line in keeping with newer styles.

Staggered butt Adds character and dimensionality to a home's finished appearance.

Mitered Shakertown corners add a quality finishing touch with less labor required.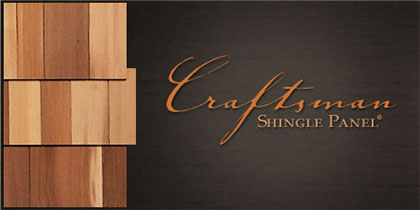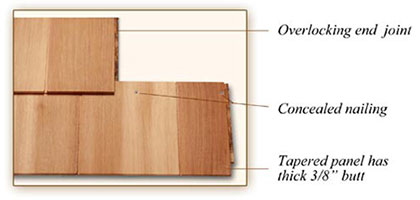 Choose a Pre-Finished Option*
Shakertown Craftsman Panels are available natural, but can be pre-stained in virtually any color of transparent, semi-transparent, semi-solid and solid finishes from a network of independent pre-finishes. Below are four architecturally-inspired semi-transparent colors. *Colors shown should be used as reference only. Color will vary due to the natural characteristics of wood. Please see your Shakertown dealer for final color reference.
Code Compliance
To fully meet high quality panel standards, Shakertown conducts a rigid in-plant quality control program. These quality control standards are systematically monitored by Timber Products Inspection, an independent inspection and testing agency. Independent testing laboratories have performed the following tests on Shakertown siding panels:
Racking Strength #171-081
Impact Load Horizontal ASTM E72-77
Surface Burning ASTM E-84
Concentrated Load and Pull Tab Test W 73-387
Transverse Load Test ASTM E72-80
Shakertown siding meets the requirements of all major building codes, including: BOCA (Report No. 88-14); ICBO (Report No. PFC-1962); SBCCI (Report No. 9410); CMHC (Report No. 7172); HUD (Materials Release 978a).